It's been awhile since I've been here and I've noticed that my missing presence has hurt the community a bit. We've lost a few members, which is the opposite of what I wanted to happen. So now that I am back, and hopefully back regularly, lets get new members!

We are all looking forward to Finding Neverland, The Libertine, and Charlie and the Chocolate Factory and as we all know, the paparazzi are out hunting for pictures of Johnny. I found a few, and they are under a cut for those of you who don't like witnessing the invasions of Johnny's privacy. According to these pictures though, he was well aware of being photographed and didn't look angry or annoyed. They can be found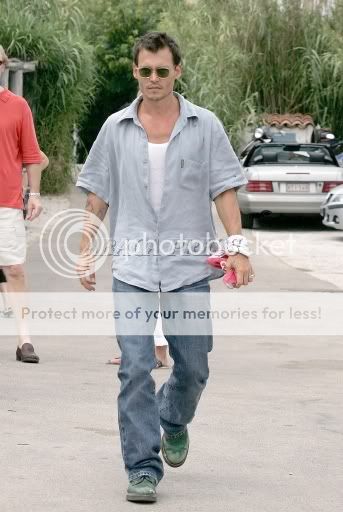 Also, you should all check out the new Johnny Depp Zone web site.

Enjoy!

--Your moderator,
karabearblu
Goal: 200 members by August 14th
P.S. I've noticed a few posts that are insignificant to this community. If you post one sentence saying something like "[insert movie here] was good", that will be deleted. If you want to talk about a movie, please explain more than that. Also, please take a look at the Info page. It's updated!